News
Steve Cole's entrancing "Mirage" poised to top the Billboard chart
The single is No. 2 as the "Turn It Up" album hits Friday and the concert tour takes off.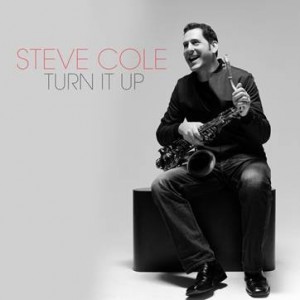 When saxman Steve Cole takes the stage Friday night at the Norfolk Waterfront Jazz Festival in Norfolk, Virginia, he will celebrate the release of his eighth album, "Turn It Up," while on the precipice of adding another No. 1 Billboard single to his burgeoning catalogue of hits. The Artistry Music release produced by long-time Cole collaborator David Mann arrives Friday as the first single, the riveting aural oeuvre "Mirage," holds the second spot ready to claim the peak position from Cole's Sax Pack colleague Marcus Anderson.
"Mirage" casts a transcendent spell with a futuristic foray that projects Cole's improvisational jazz horn onto a screen of ambient tones and throbbing club beats. The single, along with the exuberant Chicago house music salute "Workhouse," is a divergent excursion from the ten-track collection brimful of frothy pop melodies and voluminous horns over soul-powered R&B undercurrents. Recorded in three booming metropolises – New York City, Chicago and Minneapolis – that helped shape the eight compositions authored or co-authored by Cole, "Turn It Up" includes contributions from Nicholas Cole ("Turn It Up!"), Pieces of a Dream's James Lloyd ("Bright Side") and Ricky Peterson ("Workhouse"). Of note is a vintage take of Bobby Womack's seductive "Woman's Gotta Have It."
Cole's "Turn It Up" concert trek has dates to keep the Chicago-bred, Minneapolis-based artist playing festivals, theaters and clubs across the nation in support of the disc through November.
Milena Staniskovska
August 11th, 2016