Interviews
Joel Del Rosario gives a youthful string to the classical jazz
Joel Del Rosario is a passionate and talented jazz musician from San Francisco, California. He loves what he does, and brings a big refreshement to the jazz scene with his fusion of jazz with R&B, classical and hip top music. This outgoing guitarist and producer won the title "Guitarist of the Year" on the Coffee Talk Jazz Radio's and nominated for the "Best Jazz Duet" on the 2012 Los Angeles Misic Awards.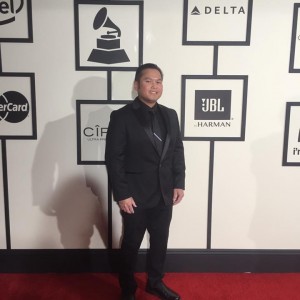 Rosario was also a part of this years Grammy Awards and he shared his experience with us.
The Grammys was an amazing experience. To be around the musicians that you grew up listening to and seeing on videos and TV is really awesome. I saw Phil Bailey from Earth Wind and Fire, sat a few rows away from Blues Legend Buddy Guy, and many others. It was truly magical and I appreciated this year's Grammy's because for the first time in a while I believe they focused on the music and essence of it as exemplified by tributes to the past musicians and singers.
We can all see and hear his passion for jazz, so we asked him, why so much love and inspiration for jazz?
I love jazz because it's spontaneous and 'on the spot'. When I perform it's not the same every time I play, it's different and changing. I like to credit God for my gift and the influences He puts in my path. I listen to a lot of the 'old school' soul music of the 70's and have been lately listening to music of today. So, as I go through this journey, you will hear an evolving of my music (hopefully) with each album.
Joel announced his new album Past Present Future in April, and his ne single is March, he is very happy and excited, but so are we, and becouse of that we asked him to tell us more.
You'll hear a lot of different styles of music from 70's soul to 50's jazz and some rock as well! I have some special guests including Billboard charting artist, Ragan Whiteside and horn player Melvin Miller. for the new album "Past Present Future", I'm telling my audience that I am going through this journey drawing from the past musicians and giving them credit and honor while trying to connect the past to our future listeners (ages 20 and above). The future I'm focused on because I would love to keep this genre alive and evolving with a whole new group of listeners and musicians challenging and molding jazz to the future. The process in making my music involves listening to old records very carefully so that I incorporate the 'essence' of the past with respect. When tracking, I make these sounds and interpretations my own while making it current and palatable to our younger listeners. I also will be working on making music for the NBA 2015 Champs "Golden State Warriors"
Joel Del Rosario loves his work, and he advices everyone to do the same.
The most important thing I learned in jazz and this genre is to love what you do and to love the music instead of trying to 'make it'. Regardless of any genre of music, you have to love what you do.
And if you want to be a part of a big event and enjoy his music, visit SONOITA JAZZ FESTIVAL , Saturday May 28th.
Milena Staniskovska
February 19th, 2016