Interviews
Coldjack the perfect band for the perfect genre of music
If you want to hear how perfect smooth jazz sounds like, then Coldjack is the right band for you. Their music goes wide around the world making a big blast on the radios. Coldjack is a band that is very well connected thanks to the exquisite talent of the band members. We have John Fraser as the lead singer and Kolette Easy on the backing vocals. The guitar master is Carl Harvey, the smooth Dane Wedderburn on bass, Aaron Spink rules the drums, Bela Hayman on keys, and on percussion Diane Rivard. All of these people deserve a round of applause for the amazing job they do, giving beautiful music to the world. For that reason we decided to get to know them better thru John Fraser , and bring their story to the world.
How did you come to the idea to form the group Coldjack?
Well Coldjack formed in 1992 back home in London UK and back then I was the song writer and Bass player. I met Dean Chandler who was also the song writer and lead singer and Gary Wilson the Drummer, Coldjack wanted to offer a smooth jazz/R.n.B sound to London, So with that we wrote some songs and recored them at the Famous Mr Gary Numan studio. Gary was famous the song ( Cars ) and his band Tubeway Army.
After 3 years of playing in London the band broke up and in 2001 I moved to Canada -Toronto. But in 2013 I was hungry to get back into the music and re- formed Coldjack with the most amazing musicians and along with that I met Mr Eddie Bullen, Grammy Nominee and Juno winner. We signed a record deal with him and ThunderDome sound and produced our 1st album Spitfire Angels.
What does the group represent?
The name of the band, "Coldjack" is a mythical, mysterious man who is seeking the perfect genre of music. He is a time traveller, tortured, as he listens to the various music of the ages, trying to find perfection. Seeking perfection, it is his hope that one day he can rest, finding true love and the ultimate musical experience. Although a gift of the imagination, the name has special significance to the band members and their fans.
Can you tell me something about your first album?
Our first album is a collection of Originals and Covers, My Original songs are of personal feelings that I have gone through in life. But the title album song Spitfire Angels was to honour the Pilots that flew in WW2 and that meant a lot to me.
Our covers were songs we wanted to record and thought would complement the album in that smooth jazz / R,n.B vibe. The Song ( Money ) was a pink Floyd track and Paradise was a Sade Cover that we wanted to give our own twist to them and it worked really well. Now the track FREE YOUR SOUL was a Level42 track that my friends Mark King and Mike Lindup from Level42 never recored or published, So they gave it to us for the Spitfire Angels Album.
You were nominated for the songs Troubled Man & She Takes Me High, by the Akademia Music Awards committee, what did this mean to you ?
We ended up winning both catagories for Troubled Man and She Takes Me high and that meant a lot to us because we re recognized by the music industry and our fans, its amazing to win any music award for the hard work that we had put in to get the awards and that can open doors for which it has for music festivals and even more Radio stations asking for our music.
What does jazz represent to you and the group ?
Jazz and Smoothjazz means a freedom to open up our minds because this style has no boundaries.
Its a fusion a gift to combined so many flavours.
Can you tell us more about your future plans?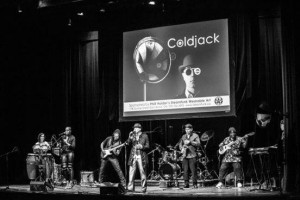 Well right now we are in the process of recording our 2nd Album 400 Tears with our amazing producer Mr Eddie Bullen, but we have decided to release one single at a time and then release the whole album later in the year of 2017. We are also shooting video's for promotional reasons to get the band out there. We are also waiting on dates for 2017/18 to play Festivals and Theatre shows in the States and UK along with the dates that we have already booked and are waiting for in Canada.
We have also landed 3 sponsorship deals 2 in Canada and 1 huge deal in the U.S.
But we are also looking to make it to the next level and to be reconsidered by our peers.

We have our own wine coming out in Jan called RED BOWLER its a vintage Pinot Noir and produced in California at the San joaquin Winery with our good friend and sponsor Mr Gil Soto.
This wine will be bottled and released in Jan across the States.

Our craft beer deal is here in Ontario at the Bancroft Brewery and will also be ready to buy in Jan 2017, Along with out Premium Dark Roast Coldjack coffee and Cold Brew coffee in bottles at the end of Jan 2017.

We will also be looking to add to many more radio station to play Coldjack's music, Right now we are on a lot of stations around the world and feel very blessed.

But for our amazing fans that support us we are just looking forward to keep bring them great music and giving 100% at every show we play live. We owe them everything along with our families and friends that have been with us all the way.
Coldjack will make you enjoy every note they play and sing, they will do all the work, all you have to do is enjoy their music. To see what Coldjack are upto or where they are playing live next please go to their Facebook fan page or Website.
Milena Staniskovska
December 18th, 2016