2017 International Jazz Composers Symposium
2017 International Jazz Composers Symposium
Venue
University of South Florida
Be a part of the 2017 International Jazz Composers Symposium at the University of South Florida from May 18-20, 2017.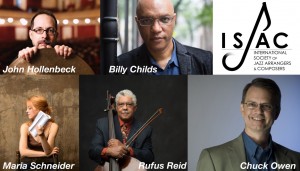 ISJAC, in collaboration with the University of South Florida School of Music, is delighted to serve as host of the revival of the "International Jazz Composers' Symposium,". An unparalleled gathering of jazz composers, musicians, scholars, students, and industry professionals from across the world; this unique forum offers attendees the opportunity to connect with fellow jazz composers as well as celebrated master artists while becoming exposed to a variety of new works, concepts, and related music industry trends. In addition, an open application and call for scores/papers will offer attendees several avenues in which to share and showcase their own work: via featured concert performance, guest artist master classes, research paper presentations, and the JCS' unique "poster sessions."
Click here for up to date information on the Symposium as well as how to register.