Album Reviews
The Hot Sardines brought two countries together with "French Fries & Champagne"
The Hot Sardines are the best of New York today. Bandleader Evan Palazzo and lead singer Elizabeth Bougerol continue doing beautiful music as they did on the last album. "French Fries & Champagne" is the name of new album, released by Decca Crossover. You will hear amazing covers and original songs, that will take your breath away.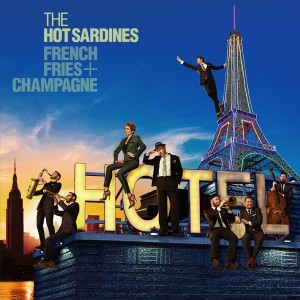 "French Fries & Champagne" starts with the stunning "Running Wild", a very positive and festive song. "When I Get Low I Get High" featuring British actor/public figure Alan Cumming is the star of this album, it really shows the creativity of this band. There is also a great cover of Robert Palmer's "Addicted To Love". "People Will Say We're in Love" from Rodgers and Hammerstein's "Oklahoma!" is a ballad that will take over your heart. "French Fries & Champagne" is one of a kind album, the combination of French and English lyrics gives this album the sound you have never heard before.
The Hot Sardines have done a great job with this new album, after the amazing debut album "French Fries & Champagne" has the same quality but a lot more creativity in it. This album deserves to be heard.
Milena Staniskovska
July 9th, 2016