Album Reviews
Stanley Clarke, Bireli Lagrene,Jean-Luc Ponty present D-stringz
Bassist Stanley Clarke, Violinist Jean-Luc Ponty, and guitarist Biréli Lagrène released their trio recording, D-Stringz.The album was released on November 6th 2015, by Verve label.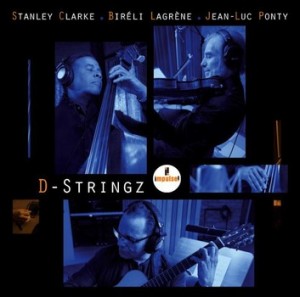 The first time this trio combined was in 2012 for the all-star concert marking Ponty's 50-year career. For one of the performances, the man of honor assembled a trio with his erstwhile collaborator — the bass pioneer Stanley Clarke, and someone neither hadn't previously worked with, Biréli Lagrène.
D-stringz contains 10 songs, and starts with the song Stretch, that will "stretch" your moves and will make you enjoy in the groove and the percussive plucks and strums by Clarke and Lagrène. Too Young To Go Steady is Jimmy McHugh and Harold Adamson's song, and the first of a handful of sturdy covers tackled for this record. Covers also are Nuages, Blue Train, Mercy, Mercy, Mercy. Lagrène's' puckish playing on Ponty's Childhood Memories makes clear why he's a true guitar original. To And Fro,is a piece Ponty originally wrote for another trio featuring himself . One Take, is built on a simple two-chord vamp. Loping violin and guitar lines twist, turn, and soar, creating a lithe, breezy, funky feel. Blue Train is presented to us in a very unique way, where Ponty shines in his solo act bringing both gypsy and modal jazz tradition.The most recognizable track has got to be Joe Zawinul's Mercy, Mercy, Mercy, and the guys slow it down a bit and dig a little harder on the anthemic groove.
This three amazing musicians are talented and successful by them self, but with this combined trio, they make magic seem so easy and real.
Milena Staniskovska
January 3rd, 2016