Album Reviews
Smith,Taborn & Maneri – The Bell
Ches Smith, Craig Taborn and Mat Maneri offer us a new fresh album The Bell. They are New York's most imaginative left-field musicians, drummer/vibraphonist Ches Smith, pianist Craig Taborn and tone-bending viola player Mat Maneri.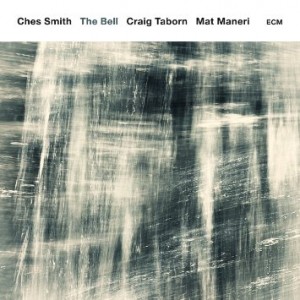 The album has 8 songs, and it was released on January 15, 2016, by ECM records. Some songs clearly have landmarks, in agreed-upon melodic themes and tonal centers. But the line between written and unwritten grows blurry, since much of "The Bell" is airy and slow, using the spaces around notes, both in terms of time and pitch.
Ches Smith is best known to indie rock liner-note devotees as a percussionist who has appeared on over half a dozen Xiu Xiu releases. Smith moves from the bell-like elements in his kit to some vibraphone shimmers, or thrumming timpani playing. Maneri moves from a low drone on his viola to high-pitch wisps of brief, almost-scratchy timbre. Smith, riding a striated rock beat, answers with declarative authority. The circular movement in "Wacken Open Air" offers a more poignant dialogue with fleet arpeggios from Taborn and cymbal dances from Smith. Collectively, the group's sound is constantly tempting you into a false sense of ease that individual players delight in subverting with little tics, adding extra notes to minimalist phrases before they become too predictable. Maneri deals in some lyrical soloing toward the end of "It's Always Winter Somewhere." And the finale, "For Days,". Besides the minimalism Smith likes, the favored procedure in this set is the piece-length crescendo, like the nearly 11-minute "I'll See You on the Dark Side of the Earth", and "Isn't It Over?".
Smith,Taborn & Maneri, did a great job with this album, so go ahead and listen to The bell, becouse the music it rings it's beautiful and sooting for not just fans of jazz but fans of anyone who wants something new.
Milena Staniskovska
January 20th, 2016