Album Reviews
Sam Hankins will make you swing with Do That Thang
Sam Hankins the gifted trumpeter and composer decided to give us a gift, presenting his new album "Do That Thang ".
The album has a gentle touch, that will free your romantic emotions, but there are also parts where you would love to stand up and move to the rhythm. "Do that Thang" has 12 songs, all of them put in a great order, so you can truly inhale the whole album experience. "Do that Thang" is a album for everyone, it doesn't matter if you're in love, or broken hearted or you just want to feel the groove, this album will do that to you. This is the track list for you to enjoy: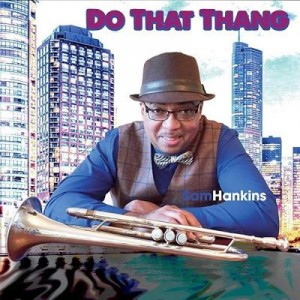 1. Do That Thang
2. I Feel It on the Back of My Neck
3. Dream Catcher
4. There for You
5. Smooth Breeze
6. Day Before Yesterday
7. I Feel a Good Vibe
8. Time to Remember
9. Thinking About You
10. Slide a Song
11. Trying to Figure You Out
12. Come On Come On
Hankins is not alone on this album, he chose a team of true professionals, Audley Reid II and Chris Godber on tenor saxophone, Demetrice Everett on drums and percussion, Tim Gant on keyboards, Terry Tuck on bass guitar, Joel Del Rosario on guitar and Julz P, Symon Ayantola and Marcellus Hankins on vocals. Thanks to the talent Sam Hankins has, and the people that make this album complete, we recommend that Do that Thang should be on your "must have" list.
Milena Staniskovska
March 15th, 2016