Album Reviews
Rick Braun proves his experience with "Around the Horn"
Rick Braun the one of a kind trumpeter, composer and producer released his new album "Around The Horn". Braun "shakes" the jazz scene more than two decades and now he has a true masterpiece to enjoy in. "Around The Horn" was released on February 24th by Shanachie Records.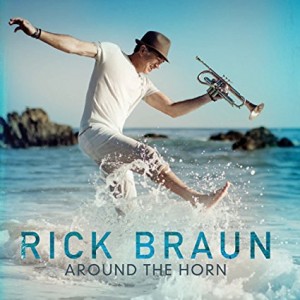 "So Strong" is the opening track of this album, and it really goes with her tittle, a cheerful track with Brazilian string in it. If you want to hear some funk "Pool Dancer" will really get you in the mood. Something more calm we can hear in the beautiful ballad featuring Lindsey Webster on vocals, "Love Take Me". "We Don't Talk Anymore" is a great cover of the pop song by Charlie Puth and Selina Gomez. Another cover that will make you swing with the beat is "In Common" by Alicia Keys. For "Around The Horn", Braun had help from talented musician like John Stoddart (keys, vocals, synth bass), Gerey Johnson, Peter White (guitar), Third Richardson (drums), Lindsey Webster (vocals), Til Brönner (trumpet), Ron Reinhardt (keys, bass), and Kenny Wild (bass).
Some people say that this is the best album that Rick Braun has made, but we will say that more surprises come with the experience, and we expect that Braun will make a new blast soon.
Milena Staniskovska
March 1st, 2017