Album Reviews
Kenny G Brazilian Nights
Kenneth Bruce Gorelick or better known as Kenny G, is an outstanding American saxophonist. He started his career very young a s a sideman for Barry White's Love Unlimited Orchestra in 1973, and do this day he has many albums, that show the talented musician he is.
Kenny G's newest album is Brazilian Nights, an exotic name just like the contry, and the style of the album. This is his fourteenth studio album, released on January 27, 2015, by Concord Records. The main inspiration for this album is the artist's endless love for bossa nova (a style of Brazilian music derived from samba but placing more emphasis on melody and less on percussion).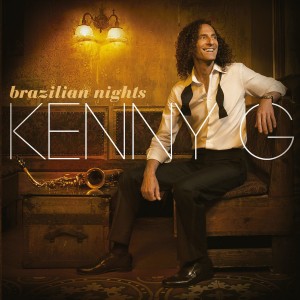 Brazilian Nights has 14 songs, that present a mix of classics and original tracks composed by G and his longtime collaborator Walter Afanasieff, all performed with palpable enthusiasm. Kenny G plays soprano, alto and tenor saxes here, and he sounds relaxed, comfortable, and like he is really enjoying his music. On Brazilian Nights you won't hear the tradicional bossa nova sound, but it's a surprisingly fresh take on the genre, while still being a great tribute. G gives the soprano sax a rest (for several tracks) and does fine work with tenor and alto horns, and lets superb pianists Walter Afanasieff and Sam Hirsch share the space on some great musical selections. He's perfectly capable of playing his own beautiful style, and as demonstrated on this CD he can also improvise beautifully. The album also comes with some live tracks of classic Kenny G songs, which are fantastic.
Kenny G works hard every day, and the result of that is his new album Breathless that will be released od January 15, 2016. We hope you will enjoy in this 15 songs, and you'll be left speechless and of course breathless.
Milena Staniskovska
January 13th, 2016