Album Reviews
John Abercrombie Quartet is in harmony with "Up and Coming"
Guitarist John Abercrombie,along with the pianist Marc Copland, bassist Drew Gress and drummer Joey Baron are back again like a quartet with their new album "Up and Coming". After the success of their first album "39 Steps" from 2013, this is a new fresh pack of tracks made to surprise you.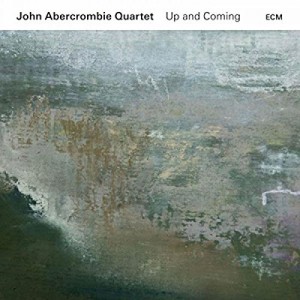 "Up and Coming" has eight tracks, from wich five were written by Abercrombie, also Copland did two, and an amazing cover of Miles Davis' "Nardis," released on January 27th 2017, by ECM Records. The album starts with the tune "Joy", and this is a nice and slow track where John and Marc keep their rythm in a beautiful harmony.Gress and Baron make the magic on "Flipside", it has that up-tempo that makes you enjoy in it even if is almost a three minute track. The bass solo in the tittle track is what makes this track more quicker and more melodic. Copland adds a gentle touch in his dark and dramatic "Tears,". The last track is "Jumbles,"also one more example of fine melody similar to the tittle track.
John Abercrombie Quartet has driven their skills to perfection, the harmony that shines on this album can't be avoided. "Up and Coming" is worth every minute of your time.
Milena Staniskovska
February 3rd, 2017