Album Reviews
Jeff Lorber, Everett Harp and Chuck Loeb doing some "More Serious business"
After the release of their self-titled debut Jazz Funk Soul album, the outgoing trio of Jeff Lorber, Chuck Loeb and Everette Harp booked more studio time, with the goal of capturing their dynamic onstage energy and flow on a follow-up release. The name od this one of a kind album is "More serious business", and we can assure you that the qvality is eqval to the name. "More serious business" has 10 songs full with soaring saxophone solos, brilliant guitar riffs, super funky piano riffs and incredibly compelling melodies. The album was released on January 22, 2016 by Shanachie entertainment.
Unite Harp's soaring sax, Loeb's superb resourceful guitar further Lorber's excellent funky piano, moreover the sum is serious pleasant music. The track "More serious business" it's built up from a toe-tapping, tightly-constructed jazz-funk groove and the chops that are used not as an ends onto itself but to instead light up the sunny harmony.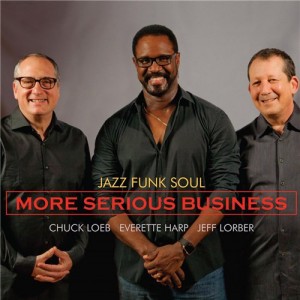 Tracklist:
01. Our Thing
02. Tuesday Swings
03. Timmendorfer By The Sea
04. More Serious Business
05. Crusher
06. The Love
07. Fall Departs
08. You'll Know When You Know
09. Gamblin
10. Connections
This artists and producers are responsible for selling millions of albums and scoring close to 50 #1 Smooth Jazz radio hits, so don't miss this masterpeace, that will be "music to your ears". Highlights include the soon to be hit single, "Triple Play," the sensuous Loeb original "Feeling You," the high spirited romp "And One!" .
Milena Staniskovska
January 30th, 2016