Album Reviews
Gino Goss is ready to amaze us in 2016
Gino Goss is an artist that brought freshness in our jazz scene. Gino is a multitasking artist, he is a producer, trumpeter, Latin percussionist and so much more. All of the Gino Goss music has a unique one of a kind sound, that can be performed only by Gino. His albums are a great prove of his outstanding work, starting from the debut album "Almost Famous" to his newest "Turn It Up".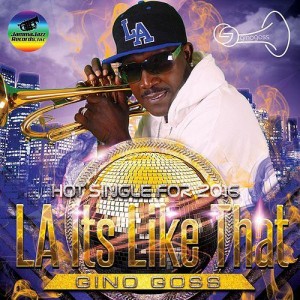 "Turn It Up" is a album where you can find a beautiful mixture of so many sounds. For example "Voodoo Magic" will make you go wild with the strong and up tempo, and then we have "Loosing My Way" where the passion is not so strong but the soft and funky melody will bring "music to your ears. And if you are a reggae fan "Shake Your Boom Boom," is a song that you must hear. All of the 11 tracks are a special story by them self.
Gino doesn't stop to surprise in 2016, he released his new single "LA – Its Like That", "Ooo Baby", and we are all eager to hear the album that will come after.

And we are sure that it will be a big HIT, because Gino has proven himself , and prizes prove that, like the Best World Artist at the 2015 Indie Music Channel Awards for his new single, "Zoom Bye-Aye" and 2015 Best Jazz Artist and Producer by Indie Music Channel Radio Awards.
Milena Staniskovska
May 20th, 2016