Album Reviews
Esperanza Spalding Finds Herself In Emily's D+Evolution
Grammy-winning bassist and vocalist Esperanza Spalding released her new album Emily's D+Evolution. The album focuses on her vocals, with their willy melodic turns, personal poetry, spoken-word chatters and skewed R&B hooks. Emily's D+Evolution was released on the 4th of March, by Concord Records, and it has 14 tracks.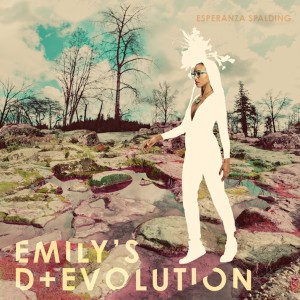 Emily's D+ Evolution is perfect for you if you are looking for some well crafted, ambiguous music, with elements of jazz, rock, and folk accompanied with some stellar singing. For this special album Esperanza picked a special band, Spalding put together specifically for this project, including guitarist Matthew Stevens, drummer Karriem Riggins, keyboardist Corey King, and others. Emily's D+Evolution. Is not only about the music in the songs, the real reason this album offers so much emotions is the story behind it. Spalding sings through a muse named Emily, her middle name, though her reasons for doing so aren't clear-cut. As a character, Emily wants you to buck the system, to fight for peace and tranquility. She wakes up your emotions.
Esperanza is a young jazz prodigy, and she has proven that she deserves a place with the big players. Emily's D+Evolution is just a step forward.
Milena Staniskovska
April 1st, 2016