Album Reviews
Chris Standring presents the decade album Ten
Chris Standring, the one of a kind guitarist, is back with Ten. This is his tenth solo recording, and because of that the name of the album is Ten, and symbolically has 10 songs. Ten was released on March 11, by Ultimate Vibe Recordings.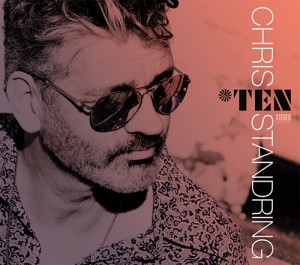 The album Ten starts with Ready Steady Flow, that will certainly make you feel the groove. Soul Vibration brings something more buzzy a new electronic sound and guitar chords. And if you abe more in to Latin music Bossa Go Go will do that for you. And the ride to the world of dreams is Magic Carpet Ride and Piece Of Cake, smooth but also sassy. The album closes with Never Too Late, a soft, slow walk through the calming waters of c-jazz's milder side, highlighting the introspective element that Standring can turn on so easily. All of the songs are different and special by themselves, just like the whole album. In Ten Standing gives himself a lot of space as a soloist, and makes the guitar the centre. This is a album that will never get boring.
Like always Chris has a elite circle of musicians accompanying him, like Andre Berry (bass), Chris Coleman, David Karasony and Sergio Gonzalez (drums), Dino Soldo (sax), Dan Lutz (acoustic bass), Jeff Babko (Fender Rhodes), and Rodney Lee (organ).
Ten is a different album, for different people, it doesn't matter what kind of a taste you have for music, because everyone enjoy good music when they hear one, and that is what Ten is all about.
Milena Staniskovska
March 18th, 2016