Album Reviews
Charles Lloyd & The Marvels – I Long to see you
"I Long To See You" is a new masterpiece of Charles Lloyd, with the new and refreshing The Marvels. The album is released on January 15, 2016, by Blue Note. While we all know the legendary Charles, The Marvels is a new band featuring guitarist Bill Frisell and pedal steel guitarist Greg Leisz, along with Charles's longtime quartet members bassist Reuben Rogers and drummer Eric Harland.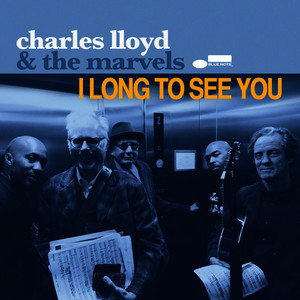 The album's lead single "Of Course, Of Course," a fresh reworking of the title track of his 1965 Columbia album."I Long To See You" has 10 songs, and it opens with an impassioned reading of Bob Dylan's "Masters of War". Best of all, though, is Lloyd's beautiful one-verse rendition of the hymn "Abide With Me". All together they have created a sumptuous collection of 10 songs that range from traditional hymns to anti-war folk protests to re-envisioned Lloyd originals from his earlier albums.
"I Long to See You" spotlights two guest vocalists: Willie Nelson and Norah Jones. Norah Jones shows her jazz chops with a chromatic approach to "You Are So Beautiful", while Willie Nelson sings "Last Night I Had the Strangest Dream", and throws in a few guitar licks of his own. This album is a recording of pristine beauty, refined elegance, passionate emotion and spiritual sensitivity.
After the amazing album "Wild Man Dance", Charles Lloyd doesn't stop to surprise us. His improvisational talent for cross-pollinating jazz with rock and non-Western styles of music established him as one of the key figures in the development of fusion during the '60s and '70s.
Milena Staniskovska
January 18th, 2016