Album Reviews
Dr. Lonnie Smith brings us Evolution
Dr. Lonnie Smith is set to release his first Blue Note album in 45 years with the January 29 release of Evolution. The album Evolution is a spin of funk, gospel, jazz and more.
Teeming with his trademark accent marks, finesse caresses, bright sparks and jagged lines, Evolution finds Smith in the company of his regular band and special guests Robert Glasper on piano and Joe Lovano on saxophones, who made his own recorded debut as a sideman on Smith's 1975 album Afrodesia. Smith performed with his Evolution band at the 2016 NYC Winter Jazzfest in January.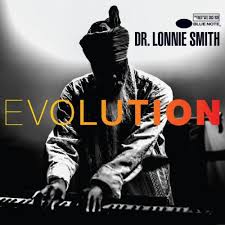 This is an album that showcases the music, with a mere seven tracks, each of differing styles that flow with moving textures that are fully developed with the immediacy of a hand that's been furnishings notes to upturned ears for longer than you can remember. And he does it all with a huge sound, with two drummers, funky horns, and all without pulling punches and avoiding gimmicks.
With a career that spans half a century, this Master of the Hammond B-3 organ has accumulated a plethora of accolades, recorded over twenty solo albums, and toured with the likes of Dizzy Gillespie, Etta James, Ron Carter and Lou Donaldson.
Smith helped celebrate Blue Note's 75th anniversary in 2014 by appearing with Donaldson at the historic concert Blue Note at 75 at the Kennedy Center in Washington DC.
Milena Staniskovska
February 11th, 2016